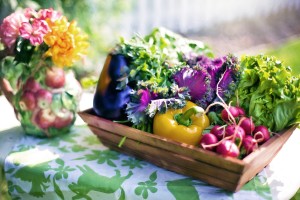 Fresh Produce
Now we are a meat company offering San Diego some high quality, free range tasty meats and poultry. What better way to compliment great meats, than with garden fresh, organic produce?
Today we give you a few tips for creating a garden at your home.  Even if it's small and you only grow herbs to use as seasoning with marinating or roasting your meats, a small garden is better than no garden…in our opinion. And if a garden is just a no go for you, we recommend finding local fruit and veggie growers to supply your greens.
We have a medium sized garden at our home. We were fortunate to have our friend who is a landscape designer and pool builder in Phoenix, fly out at help us design our garden space (we traded his expertise for our meat). Our garden expands outward and we have a garden wall as well. Yes gardens can be tall!
Tips for starting  a home garden
Find where the sun shines. Sunlight is needed (6-8 hours) for most vegetables. If you don't have full sun think about growing a variety of leafy veggies.
Plan what you want to grow. We say start small, you can always expand. What do you use the most of?
Decide on your space. How much space will you need?  You can always grow up not just out. There are some very cool vertical gardens.
It's all in the soil. Choose a rich organic soil to use.
Space Properly.  Give the items you've decided to grow proper spacing for ultimate growth.
Plant. Water Regularly. Give your garden love and keep it clean.
These are some basics to review when getting started with your first home garden.  Do a little more research to work out the details.  Here is a nice article to reference Organic Gardening.
There really is not much better than good, fresh produce. Enjoy a quality cut of beef or pork, some fresh roasted vegetables, and a nice glass of red wine.  Quality over quantity is our motto. Less is more if done right!